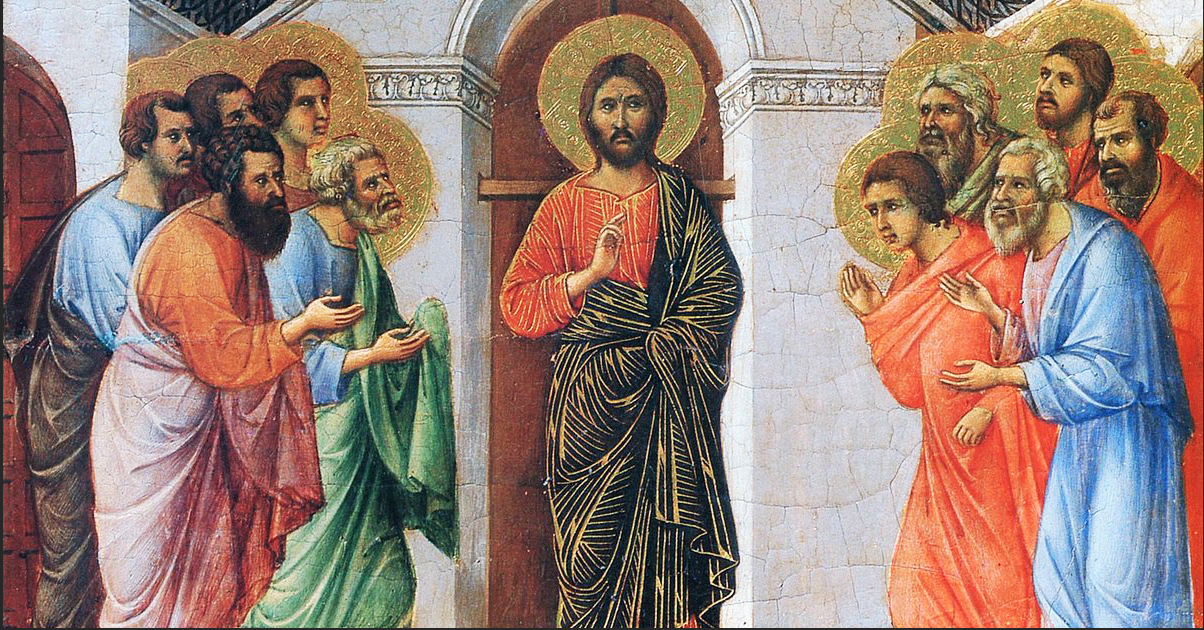 19 Apr

April Reflection – Michael McFarland SJ

During this Easter season we have been reading about the various encounters the disciples had with the Risen Christ and the life-changing impact these had on their lives. These accounts generally follow a similar pattern. Initially there is a lack of recognition, doubt, disbelief, even fear and denial in the face of a reality so far beyond our human understanding and experience. Once Jesus assured them that it truly was He and He was physically present and no illusion, they reacted with joy, not only because he had miraculously survived His terrible ordeal and come back stronger than ever, but also that He and all He stood for had been vindicated. Jesus did not leave them simply to luxuriate in that moment of triumph, however. Rather He commissioned them to bring this stunning news to others, witnessing to His Resurrection and all that it meant. For example, Mary Magdalene, the first to experience the Risen Christ, was told to "Go and tell my brothers." Then, when He appeared to the disciples in the upper room, He gave them the commission, "As the Father has sent me, so I am sending you," giving them the power in the Holy Spirit to forgive sins, which was the core of His own mission. Later in John's Gospel, in the deeply personal encounter with Peter, Jesus told him to "Feed my sheep." In Matthew's account, when Jesus summoned his disciples to Galilee, he told them to "go and make disciples of all nations, baptizing them in the name of the Father and of the Son and of the Holy Spirit."

It is evident from these and similar passages that the disciples were being sent as witnesses not only to testify to the personal triumph of Jesus over all the forces that sought to destroy Him and all He stood for, but even more important to build His legacy by constituting a community to carry on the work He began while on earth. In the readings from the Acts of the Apostles, which we have also been following during this season, we have seen that process unfold. It meant bringing together people from "all nations," starting with Jews and Gentiles, who regarded one another with deep suspicion and contempt, and reconciling them to one another so that they could live in peace and mutual respect, united by a shared commitment to serving Jesus Christ. It also meant reconciling sinners to God, caring for the poor and healing all manner of broken lives, all in the name of God's mercy. This is how the apostles proclaimed God's sovereign rule over our world, definitively established by the Resurrection of Jesus.

Their successors in the Church, with all those called and united by baptism as Jesus commanded, continue that work today and always will until the end of time. It was for this work also that St. Ignatius founded the Society of Jesus almost 500 years ago, with a special emphasis on healing, reconciling, and proclaiming the Word of God. At the center of that effort from the very beginning has been the Gregorian University. It was originally founded by Ignatius to train missionaries to go strengthen the Church where it was most threatened and to bring the Word of Christ to far-off lands where it was still unknown. It prepared them to teach the truth of the faith, and build the Church through preaching, reconciling and administering the sacraments. The Gregorian has continued that basic mission throughout its history, adapting it to the needs of every age. Today it brings together students and faculty from every part of the earth, every language and culture, to form a community united in the service of God and His Church. There they strive together to understand more deeply God's Word, to discern His presence in the world and to bring His merciful healing and reconciliation where it is most needed. We are deeply grateful for all the ways you our friends contribute to that work. It is a living witness to the Resurrection of Christ and the working of His grace.

Michael C McFarland, SJ
President, Gregorian University Foundation