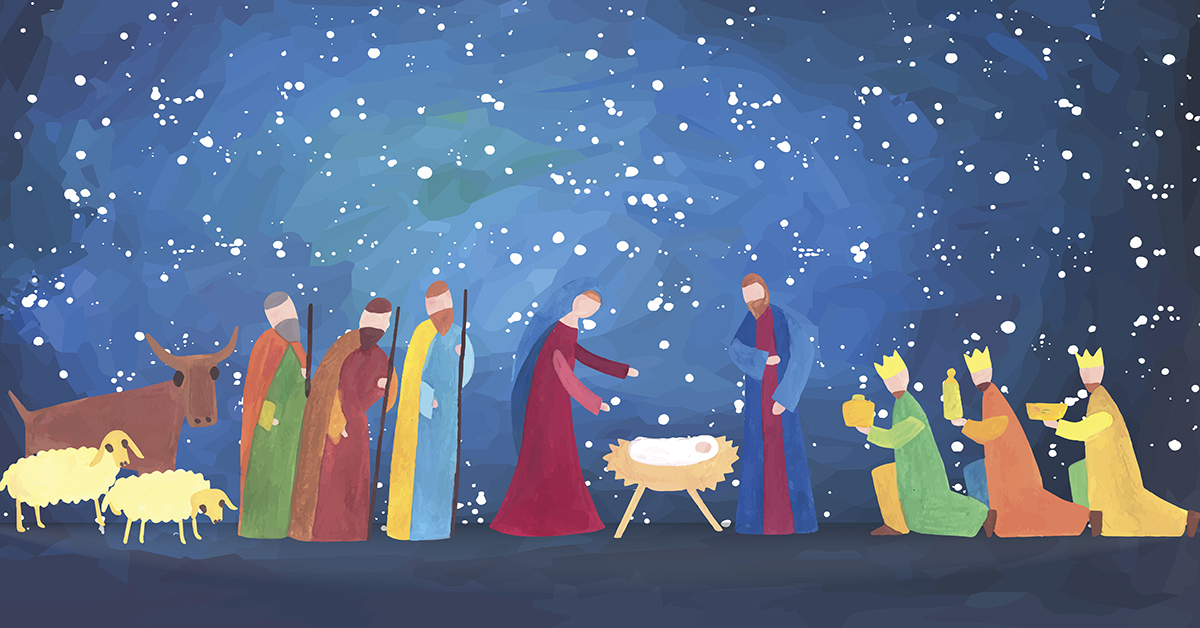 19 Dec

December 2022 Reflection – Michael McFarland SJ
The Wonder of a Child

Though Christmas is one of the most solemn religious feasts of the year, celebrating an event that is pivotal to our faith, in practice our observance of it tends to focus on children. Families concentrate on gifts and activities for their children.  Many of the iconic TV shows and movies, such as "How the Grinch Stole Christmas," "A Charlie Brown Christmas," and "A Christmas Story," are for and about children, as are many of the pop songs, although these always draw great interest from adults as well. Many parishes and Catholic schools put on pageants and concerts in which their children perform.  In general the season is filled with stories, rituals and legends directed at children.
There is good reason for this emphasis on children and their experience of the feast. After all, Christmas is about the birth of a child. But what draws us in even more, I would suggest, is the sense of wonder with which children experience the celebration.  For them it is something beautiful, dazzling and mysterious. The lights, the music, the elaborate displays and decorations, the manger scenes, the cookies and other treats specially made for the occasion, going together to church and to visit families and friends, the caroling, all speak to a unique special occasion filled with joy, beauty and love beyond what they experience in their daily lives. All of this is encapsulated in the person of Santa Claus, that mysterious figure from a place beyond our reach, who comes once a year to bring gifts to all the children of the world, regardless of who or where they are, out of pure generosity, thus both modeling and inspiring kindness and care for others.
I believe that one of the reasons we adults find Christmas so engaging and invest so much in its observance, is that we want to recapture that sense of wonder and awe in our own lives. And as much as the whole experience has been secularized and commercialized, at its core is still the fundamental truth of the Incarnation. That the God of all creation, transcendent beyond our knowing, out of pure generosity and love, has chosen to enter into our human reality, coming as a tiny vulnerable child in a poor, migrant family, to share our struggles and pain and to be our champion who will free us from the misery of selfishness and sin, should be a source of wonder and awe. Moreover, the One Whose birth we celebrate on Christmas, Jesus, Who is Son of God and Son of Mary, has promised to be with us always, sanctifying our lives, reconciling us with God and one another, and bringing justice, peace and love into our broken world. If we really grasped this mystery, every day would be as full of magic for us as Christmas is for a child.
This mystery is at the center of our Christian faith; but it is also a special emphasis of Jesuit spirituality and education, which is often described as "incarnational." The mystery of the Incarnation is the pivot point of the Spiritual Exercises of St. Ignatius, which underlie all our work; and the Exercises culminate with a vision of God always present and at work in our world, bringing a new meaning, purpose and transformative power to our everyday lives. The overarching purpose of Jesuit education is to make students aware of the divine presence in all of our lives and activities, giving them a dignity and a significance beyond our normal perception.  This is especially true of the lives of the poor and rejected, with whom Jesus always most closely identified. That is why Jesuits have always been interested in every aspect of human life, including the arts, science, technology, economics, psychology, anthropology, languages, and cultures, all that is human. It is also why Jesuits have emphasized outreach, mutual respect and dialogue with other religions and cultures. The holy is everywhere.  It has been the special mission of the Gregorian University since its founding by St. Ignatius almost 500 years ago, to bring this attitude into the Church. We are all richer because of it. May this spirit touch your lives in a special way this Christmas.

Michael C McFarland, SJ
President, Gregorian University Foundation