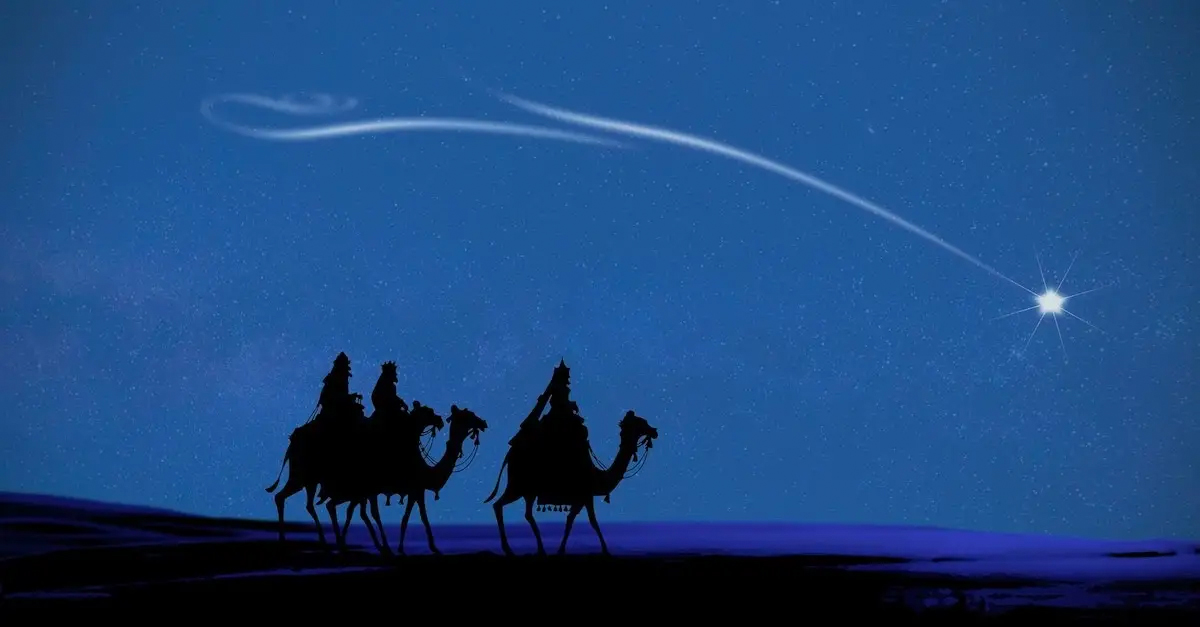 18 Jan

January Reflection – Michael McFarland SJ
Following the Star
Earlier this month, we celebrated the Feast of the Epiphany, which centers on the story in Matthew's Gospel of the Magi, who were led to the newborn Christ by a remarkable star they had discovered. As astronomers/astrologers/soothsayers, they sought to use the best human knowledge available to them to understand the meaning, purpose and direction of the world.  According to Matthew's story, God used their human learning to lead them to the revelation of God's saving presence in the world. This is taken as a paradigm of how God makes Himself known to all peoples and invites them to share in salvation.
St. Ignatius had a keen sense of how our search for human knowledge and understanding can lead us to God. He had experienced it in his own conversion; and it became a key strategy in the mission of the Society of Jesus to evangelize throughout the world. That is why education has always been so important to Jesuits, both for themselves and as a way of reaching other people.
St. Ignatius himself founded the Roman College, now the Gregorian University, in 1551 to be the center of that educational effort.  For 470 years it has given a first-rate education in theology, philosophy and a broad range of other subjects to Jesuits and others, equipping them to engage people from a variety of cultures and religions and bring the Christian message to them.  A shining example is the Jesuit Matteo Ricci.  Ricci attended the Roman College after entering the Society of Jesus in 1571.  In addition to his studies in philosophy and theology, he learned mathematics and astronomy under the Jesuit Christopher Clavius, one of the most distinguished mathematicians of his era.  After ordination, Ricci volunteered as a missionary and was sent to China.  Once there, Ricci set about learning the language, culture and intellectual traditions, all of which he mastered so expertly that he gained the respect of even the most exalted Confucian scholars and officials.  He translated several Western philosophical and mathematical works into Chinese and several Confucian treatises from Chinese into Latin.  He wrote a treatise on Friendship in Chinese, drawing on both Western and Chinese sources, that is still considered a classic of Chinese literature.  Most important for missionary work, he wrote The True Meaning of the Lord of Heaven, explaining Christian beliefs in Confucian terms.  Ricci's knowledge of science and technology gained him access to the Imperial Court and the Forbidden City, the first westerner to be granted that privilege, particularly because of his ability to predict eclipses more accurately than the Emperor's own experts.  Eclipses were seen as important heavenly signs and had to be taken into account in planning key initiatives.  Ricci's extraordinary intellectual accomplishments and his profound embrace of the Chinese culture and traditions gained a measure of acceptance for him and other Jesuits in a nation that generally regarded outsiders as dangerous barbarians.  They took advantage of this to make many converts and establish missions and churches in various parts of the country, some of which have survived to this day, in spite of reactionary opposition by both Rome and Beijing.
As extraordinary as his career was, Matteo Ricci was just one of many thousands of graduates of the Gregorian who have used the learning gained there to bring the life-giving Word of Christ to people in every part of the world.  That work continues today, with the students now often coming from the lands in Latin America, Africa, India and East Asia first evangelized by earlier generations of graduates.  We are very grateful to all of you whose generous support helps make that work possible.

Michael C McFarland, SJ
President, Gregorian University Foundation