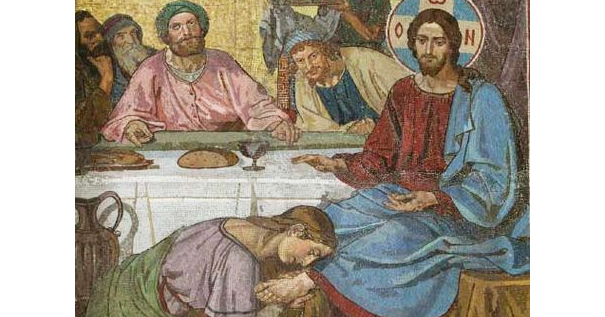 20 Sep

September Reflection – Michael McFarland SJ
Hospitality

As we prepare for your Colloquium in Rome next month, we are deeply saddened by the illness and death of Elena Bartoli, who staffed our Rome office. Before that, she ran the Visitors' Bureau at the Jesuit Curia, where she was a legend among Jesuits, their families and their guests. She opened up the treasures of Rome to them all. Everyone who dealt with her was overwhelmed by her warmth, her efficiency, her deep knowledge both of the rich history of the city and the life of the Church, her unmatched network of contacts and her boundless generosity, no matter what the request.
Elena was the embodiment of the virtue of hospitality for Jesuits and their friends. For us hospitality means much more than basic acts of human kindness or good customer relations. It has a much deeper religious significance. Throughout the Old Testament, there are constant reminders of the importance of showing welcome and extending help to the stranger, especially one in need. In the book of Genesis, Abraham's special calling as the Founder of the Jewish nation began when he extended hospitality to two strangers who wandered into his encampment in the desert. Moses was sheltered by his future father-in-law Reuel when he was on the run from Pharaoh; and it was during that time that God appeared to him in the burning bush and sent him to save Israel from their slavery. Ruth, when she came as an alien to Judah in order to care for her mother-in-law Naomi, was received generously by Boaz, who made sure she was able to glean enough from his fields to feed her and Naomi and ordered his men to watch over and protect her. They then married; and their offspring led to King David. God's saving actions in salvation history often began with acts of hospitality. This lesson was reinforced by many injunctions in the Law and prophets. For example, Leviticus 19:34 commanded, "The foreigner residing among you must be treated as your native-born. Love them as yourself, for you were foreigners in Egypt. I am the Lord your God."
Hospitality is at least as important in the New Testament. Those who showed hospitality to Jesus were richly rewarded. For example, in Luke 7:36-50, a Gospel we heard earlier this month, the woman who was a notorious sinner showed Jesus extravagant affection and welcome, to the great annoyance of the Pharisee who gave him a chilly and half-hearted reception. As a result, her sins were forgiven and she was given the promise of salvation, while the Pharisee got a reprimand. Zacchaeus, another sinner scorned by his fellow Jews, also received forgiveness and salvation from Jesus for his enthusiastic and generous hospitality. These are just a few of the many examples from the Gospels where God's mercy and love was poured out on those who welcomed Jesus and outsiders like him. Think of Martha, Mary and Lazarus, Mary Magdalen and the Apostle Matthew. We are to do the same. Paul reinforces this lesson in his letter to the Romans when he writes (Rom 12:13), "Share with the Lord's people who are in need. Practice hospitality." All of this is tied to a deeper reality of God's loving welcome to all, symbolized by the Kingdom of Heaven being often portrayed as a banquet to which all are invited to enjoy God's lavish hospitality. This reality is present to us even now in the Eucharist, which, as Paul points out in 1 Cor 11:17-34, is inextricably tied to our obligation to extend a special welcome to the poor and outcast.
As we go to Rome for next month's Colloquium and enjoy the many feasts, spiritual, visual and culinary, that the city offers, we will be especially mindful of Elena and all she taught us about the gift of hospitality and how we find Christ in it. "Hospis venit, Christus venit."

Michael C McFarland, SJ
President, Gregorian University Foundation