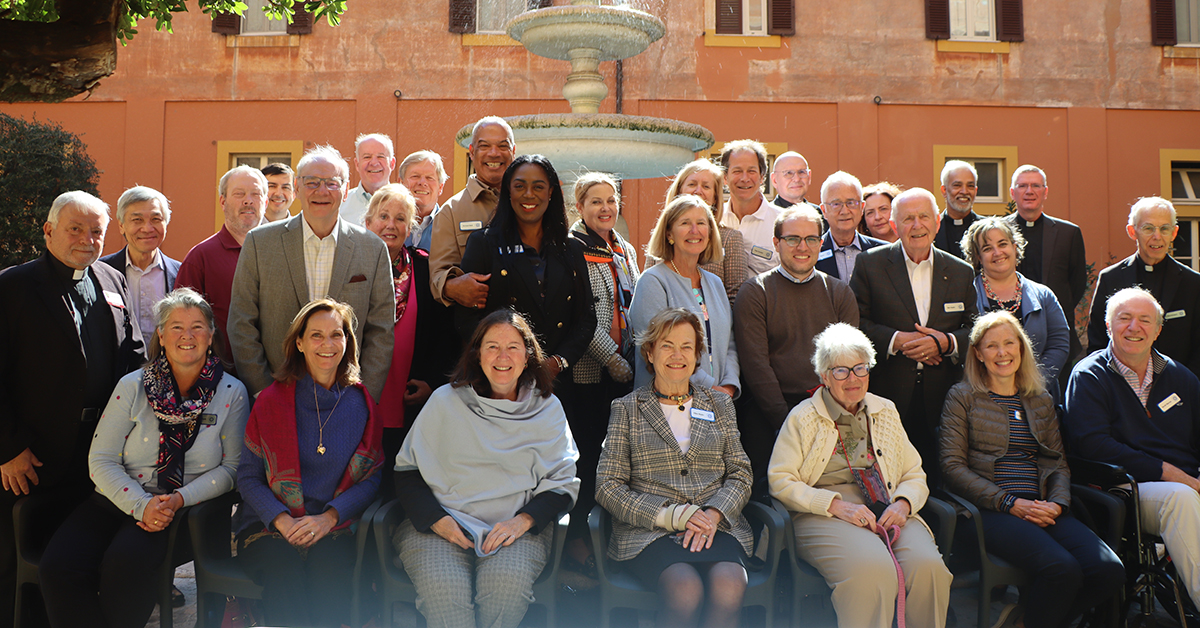 25 Oct

October Reflection – Michael McFarland SJ
Reflections on Rome
We have just returned from our Colloquium in Rome and are still savoring the many rich experiences we had during that packed week.  The Colloquium is always one of our most important initiatives, because it gives the participants an immediate and personal experience of the institutions we support, particularly their faculty, students and programs, leading to a depth of knowledge and insight that is not available any other way.  I have shared a fuller account of the experience elsewhere; here I will just highlight a couple of key observations.
As always we were very impressed with the quality of the faculty and the students.  The Gregorian alone has over 300 faculty, half of them full-time.  They bring expertise in a wide variety of fields, including systematic and fundamental theology, moral theology, Scriptural studies, missiology (evangelization), canon law, spirituality, philosophy, communications, interreligious studies, especially Judaism and Islam, church history and culture, psychology and other social sciences, and leadership and management.  The Biblical Institute is smaller and more specialized, offering all the tools necessary to understand and interpret Sacred Scripture.  This includes not only the Biblical languages of Greek, Hebrew and Aramaic, but also the ancient languages that influenced the Bible, including Assyrian, Syriac, Akkadian, and Ugaritic.  Other faculty there are experts in the history and analysis of the texts, while others specialize in archaeology, especially through their center in Jerusalem.  At the Orientale, there are faculty who are experts in the history, culture, liturgy, language, and law of all the dozens of Eastern Churches, both Catholic and Orthodox.  These faculty across all the institutions are first-rate scholars as well as dedicated teachers, in many cases among the best in their fields.  It is always fascinating to hear about the range, depth and creativity of their research.  It is not just for its own sake either.  It is meant to serve the Church by deepening our understanding of the faith and its sources and helping us put it into practice.  Many faculty members also contribute by serving on commissions and consulting for various offices in the Vatican and other Church bodies.
The faculty set high standards for the students, expecting them to think critically about the material, make it their own, and be able to articulate their understanding in a coherent and meaningful way.  At the same time, they take a personal interest in the students, are always available to them, and go out of their way to help them with whatever needs they have.  The Gregorian, the Biblicum and the Orientale are known to be the best in their fields, so they draw the best students from all over the world, those who want a rigorous, in-depth education at the heart of the Church.  Beyond their intelligence and dedication, the students are notable for their leadership qualities.  They are doers; and they have big dreams for how they want to serve their communities.  Many come from poor communities beset by deep social problems such as hunger, unemployment, human trafficking, poor health care, and environmental degradation; and they are preparing to go back and tackle those problems, often working within their local churches.  Others come from areas riven by religious and cultural conflict and want to help bring peace through dialogue and reconciliation.  Still others come from places where Christianity is marginalized, either because it is relatively unknown or because it has been lost through secularization; they are studying evangelization in order to be able to share effectively the faith they love.  Many others are preparing to serve in more traditional roles as pastors, teachers, spiritual formators, lawyers and administrators, all of which are badly needed in the Church today.  Whatever their plans, the students' talent, dedication and commitment to serving their people in the Church gives us great hope for the future, a precious gift in itself.

Michael C McFarland, SJ
President, Gregorian University Foundation