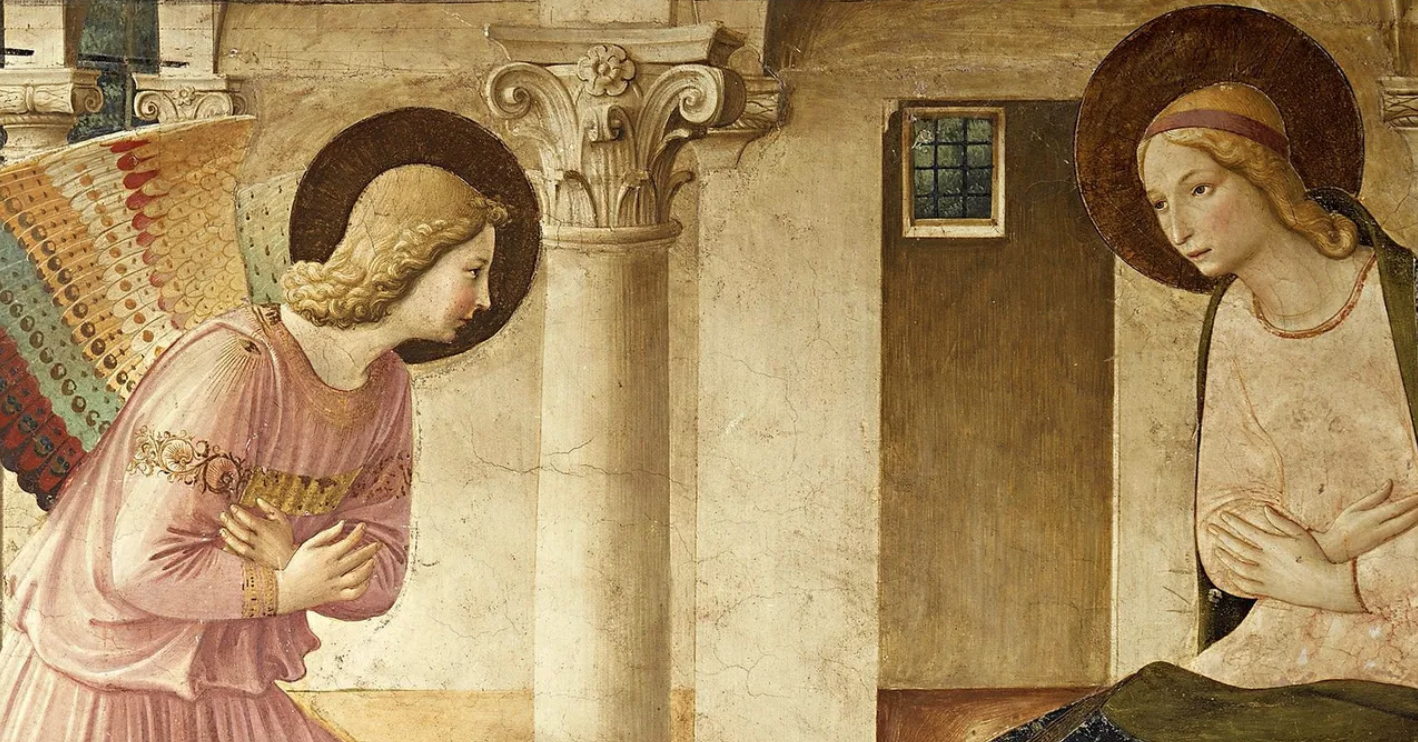 20 Dec

December 2021 Reflection – Michael McFarland SJ
Commitment

In his contemplation on the Incarnation at the beginning of the Second Week of the Spiritual Exercises, St. Ignatius asks us to picture a broken world in need of healing.  The vision encompasses the vast sweep of the human family in all its diversity: "Some are white, some black; some at peace, and some at war; some weeping, some laughing; some well, some sick; some coming into the world, and some dying …."  Yet all are condemned for their sins, destined to "go down to hell."  But looking down on this sorry scene are the "Three Divine Persons," and seeing the hopeless plight of humanity, "They decree in Their eternity that the Second Person should become man to save the human race.  So when the fullness of time had come, They send the Angel Gabriel to our Lady."
Christmas in its true sense, is not about pretty lights and shiny gifts, elves and reindeers, and warm gatherings of family and friends around a sumptuous feast.  Rather Christmas at its heart is about God's compassionate response to our human misery, trapped by evil and sin of our own making and destined for destruction.  Looking down on our world, the Trinity saw us at our worst, full of selfishness, hatred and violence in word and deed, and unable to rise above it.  God could easily have abandoned us to our self-imposed fate, or even wiped out the filth, as happened in the time of Noah and the Flood.  But against all reason and good sense, God did just the opposite, making a total and irrevocable commitment to humanity by sending the Son, the Divine Word, to become one of us, to share in all our limitations and failings without any sin on his own part and to give his life to save ours.  This is the real meaning of Christmas, and from it flows the light, joy and generosity of this special season.
The mission of the Church, as the Body of Christ and His ongoing presence in the world, is to continue that commitment and to witness to God's merciful love of humankind, the bad as much as the good.  It does that in many ways, through its reconciliation of sinners, its efforts at peacemaking, and its many programs to care for the homeless, migrants, prisoners, the sick and disabled and victims of discrimination and oppression.  Christ loves them all, without judgement of condemnation; and the Church is called to do the same.  The same dynamic operates within the Church.  Christ came to call sinners, for which He was often criticized; and His disciples today have their share of scandal and guilt.  Many have seen that as a reason to reject the Church.  Fortunately, by God's grace, there are many others who have remained faithful to Christ's mission, continuing His commitment to be with all people, the good and the bad, the lovable and the seemingly unlovable, always seeking healing and reconciliation.
In our work with the Gregorian University, it is consoling to meet so many talented students who have committed their lives to serving others in a Church that is often widely criticized and rejected, even oppressed, in their own communities.  They are on fire with the love of Christ, determined to bring His message of acceptance and healing to those who most need it and therefore to build a better world.  One striking example is the former Center for Child Protection, now the Institute for Anthropology: Interdisciplinary Studies on Human Dignity and Care, which trains priests, nuns and lay people from all over the world on preventing abuse of children and other vulnerable people and healing the wounds caused by past abuse.  As the program expands to meet the great need for such work, we will continue to seek support for it, in the spirit of the Incarnation.  We pray that the same spirit may inspire your lives as we celebrate Christmas, bringing much joy and peace.

Michael C McFarland, SJ
President, Gregorian University Foundation