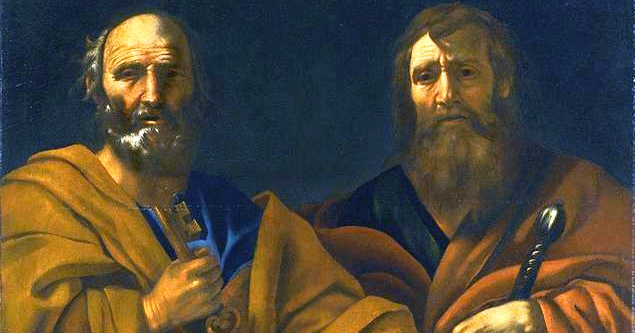 21 Jun

June 2022 Reflection – Michael McFarland SJ
Apostolic Leadership
Next week on June 29, we celebrate the feast of the Apostles Peter and Paul. We recognize them as the two pivotal figures in the establishment and spread of the Church and as model witnesses to the Gospel of Jesus Christ. As we celebrate their extraordinary accomplishments and their inspiring courage and devotion, though, we tend to forget that they both began in weakness and failure and that that experience was fundamental to shaping their ministry as apostles. Peter was often impetuous and misguided in his efforts to follow Jesus and betrayed the Lord at His time of greatest need, as he faced crucifixion. Paul began as the great enemy of Christ and persecutor of His followers. It was just that experience of God's gracious mercy in embracing them in their unworthiness that brought them so close to Christ and fueled their desire to give their lives totally in His service, bringing the Good News of His saving love to all the world, especially those in need. Moreover this experience of their own shortcomings convinced them that they could not rely on their own powers, but only on God, Who was always faithful and could conquer every obstacle. This is shown in the first two readings for the feast. In the first an angel rescued Peter from prison and looming torture and death. In the second, Paul exults in how "The Lord stood by me and gave me strength" in all his trials, giving him confidence that "The Lord will rescue me from every evil threat." They realized also that the gift of God's call and the power that came with it were given to be shared, so they went about founding churches and empowering local leaders, all the way to Rome.
This feast teaches us what leadership in the Church should be. It is not about power, control and privilege, but about collaboration, compassion and humble service of God and God's people. This is a point Pope Francis constantly emphasizes, as he warns against the scandalous and corrosive clericalism embraced by too many bishops and clergy who show more interest in protecting their power and privilege than in caring for the people entrusted to them. For example, in a talk to a group of seminarians a year ago, the Pope told them, "Clericalism is a perversion of the priesthood: it is a perversion. And rigidity is one of the manifestations." He went on to tell them, "the world is thirsty for priests who are able to communicate the goodness of the Lord to those who have experienced sin and failure, for priests who are experts in humanity, for pastors willing to share the joys and labors of their brothers, for men who allow themselves to be changed by the cry of those who suffer." This is in keeping with his message at the beginning of his pontificate, when he said that the Church needs shepherds who "smell like the sheep."
This vision was reflected in the Holy Father's recent appointment of 21 new Cardinals, nine of whom are graduates of the Pontifical Gregorian University. They were chosen for their commitment to pastoral care of their people, not their power or the prominence of their dioceses. An outstanding example is Bishop Robert McElroy of San Diego, who received his doctorate in moral theology from the Gregorian. A recent article in America Magazine, noted that Bishop McElroy "has demonstrated that he is one of the strongest supporters of Pope Francis' vision of church among the American bishops." According to the article, a brother bishop described him as "a true pastor, concerned about his people and very attentive to them, especially when they are suffering or in difficulty." In the words of this bishop, he is "a prayerful, contemplative man," graced with "an extraordinarily gifted intelligence and imagination" but "not self-promoting." We are particularly proud of Bishop McElroy and the other Gregorian graduates chosen for this new level of leadership and send all the new cardinals our grateful best wishes and prayers.

Michael C McFarland, SJ
President, Gregorian University Foundation