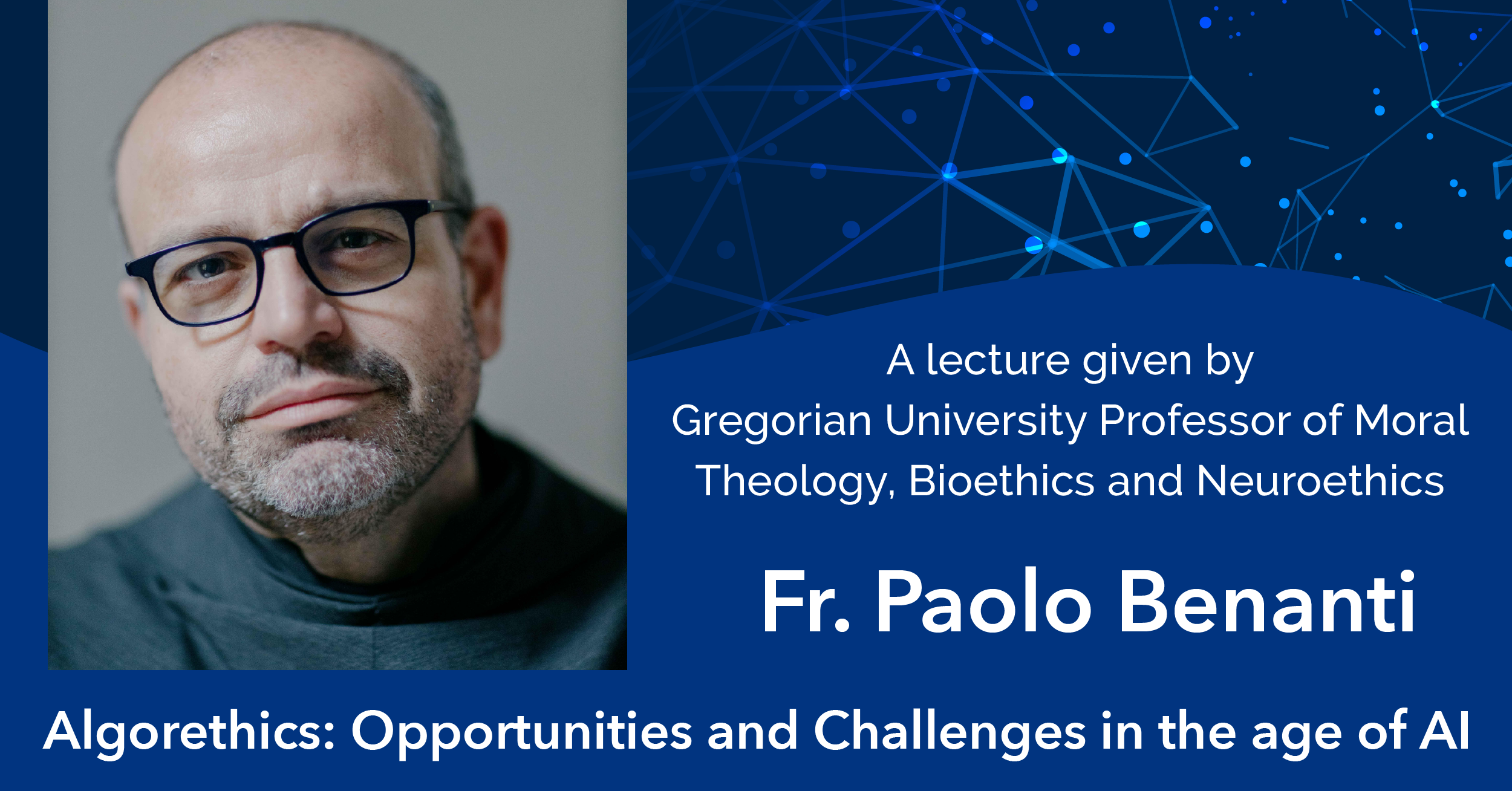 24 Jul

July 2023 Reflection – Michael McFarland SJ

In our Annual Distinguished Lecture last month, Fr. Paolo Benanti, T.O.R. presented a brilliant analysis of the impact of Artificial Intelligence (AI) on our life and society.  Fr. Benanti, a Franciscan, is a professor at the Gregorian University, where he teaches Moral Theology, Bioethics and Neuroethics.  He is an internationally renowned scholar, having published two books and numerous articles, and, like many Gregorian faculty, he is very involved in public service, serving on several advisory groups on the implications of AI, for both the Vatican and the Italian government, and consulting for major tech companies, such as IBM and Microsoft.

Prof. Benanti began by speaking about the impact of technology in general.  Some technologies help solve particular problems, while others have a transformative effect on a whole society and its economy.  As an example of the latter, between 1900 and 1913, the streets of New York went from being full of horses to being totally dominated by automobiles, with not a horse in sight.  The change was harmful for those whose livelihood was tied to the horse, but created a whole new industry with many new jobs.  It also brought greater efficiency and productivity in transport and work and even some health benefits, eliminating some diseases that were horse-born; but today we are aware that it introduced longer-term environmental problems.  The issue is not whether innovation is good or bad, but who is in charge, what the purpose of it is, and who benefits.  For example, when Robert Moses built a network of parkways around New York City, the ones on Long Island were configured to limit access to the beaches and surrounding communities to well-off whites and to keep inner-city, black residents away by closing them off to public transportation.  A new, transformative technology, such as electricity, is never totally neutral but always imposes the vision and values of those who create and control it, whether they lead to greater democratization of the good or to greater exclusivity.

The adoption of information technology and artificial intelligence began with the insight that information can order and control behavior.  At first the model was for the human to be in control, with the machine assisting.  Machines can be very helpful that way, to bring in more systematic, logical analysis and decision-making and more comprehensive use of data.  But as machines have become more powerful, the question arises about whether the human is controlling the machine or the machine is controlling the human, and for what purpose.  Prof. Benanti proposed three general requirements for the ethical uses of AI.  First, it must be transparent.  Those using it must be able to understand what it is doing and why, so that they can take responsibility for it and ensure that it is having the intended effects, avoiding hidden perverse values and outcomes.  Second, it must be universal, meaning that it treats everyone the same.  This is important, because many AI algorithms and the data on which they are trained, such as facial recognition or assessments of credit-worthiness, have been shown to be biased, discriminating against certain groups, based on race, gender or socio-economic status.  Finally, it must be general, meaning that it is available to everyone.  It cannot just be for an elite, further widening the already scandalous gaps in society based on wealth, education and other factors.

Prof. Benanti's lecture, as brief as it was, was deep, insightful and informative.  It drew from an extraordinarily rich variety of sources, including science, history, law, economics, philosophy, theology and ethics.  This ability to integrate learning and reflection across so many disciplines and bring them to bear on the most important contemporary issues is characteristic of Jesuit education, particularly as it is practiced at the Gregorian University.  There students from all over the world are schooled in an extraordinary range and depth of intellectual resources and prepared to deal with the most pressing issues in the Church and society, all for the common good.  This priceless education is almost given away, offered at a minimal tuition, while students from poor communities, of which there are many, are aided with both tuition and living expenses.  We are very grateful to our many friends who by their generosity make this possible and hope that more will join them to help continue this critical work.

Michael C McFarland, SJ
President, Gregorian University Foundation