Juscelino was born on July 9, 1978 in Porto Alegre, the capital of Rio Grande do Sul, the southernmost state of Brazil. It is tucked between Paraguay to the west and Uruguay to the south. Juscelino is a priest of the diocese of Novo Hamburgo which is just outside of the capital. It is small in area, but the diocese has over 700,000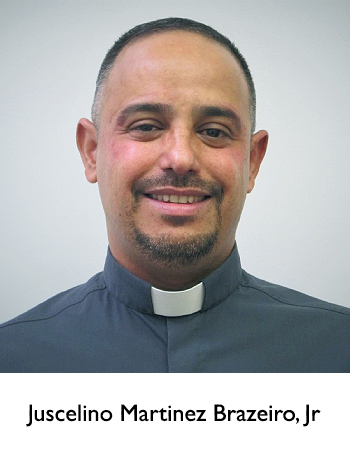 Catholics. Juscelino was ordained in 2008.
As a priest, Juscelino has worked in a minor seminary, which is the first stage in preparing young men for the priesthood. He has also served as a parochial vicar and pastor of a parish in Canela. He then was an assistant in the Apostolic Nunciature in Brasilia. He was asked by his bishop to come to the Gregorian to study canon law to serve the needs of the diocese in a different way. Juscelino is now in the third year of his studies for a Licentiate which he hopes to finish in 2020. He is very happy with his choice to come to the Greg, even though it meant that he would have to learn Italian.
There are many openings in Brazil for his specialization and so Juscelino feels that he can do great things for the Church. He might be called to serve on the Diocesan Tribunal helping to resolve matters of Church law. He also would like to teach in a seminary to form priests from several different dioceses. He is willing to go wherever there is a need for his services, perhaps even as part of the team (curia) of administrators of the diocese. He realizes that what he has learned at the Gregorian University can give new generations of leaders in the Church the grounding they need in canon law. His studies would not be possible without the generosity of donors to the Gregorian University scholarship fund.
Profile by Rev. David Brooks SJ
.