Sr. Yuliana was born on February 18, 1982 in Jakarta, the capital of Indone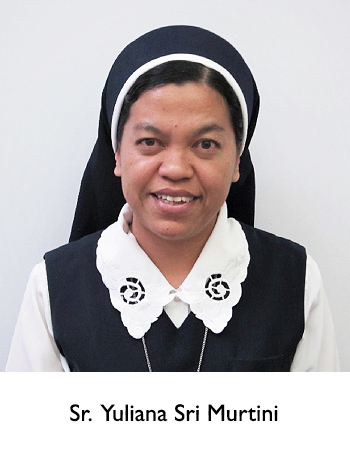 sia., to a Muslim family. She is a member of the congregation of the Daughters of Charity of St. Charles Borromeo which she entered in 2006.
Before entering the convent, Yuliana had been sent by her parents to Malaysia. She was indentured to work in a factory. Her decision to join a religious congregation changed her life. After her novitiate she was sent to work in an orphanage in Indonesia. She showed an aptitude for academic work and so she studied theology at the Jesuit university in Jakarta. In 2017 she was sent to the Gregorian University to obtain her licentiate (a canonical degree) in psychology and spirituality. She has now finished her course work and is doing a "practical" year as a counselor.
Sr. Yuliana will return to Indonesia at the end of the academic year. She expects that she will be assigned to the formation of young sisters. She has already spent time working with novices but believes that her work will expand to countries. Her congregation has houses of formation in Tanzania, Brazil and Viet Nam. In addition to her native language, Sister speaks English and Italian. Her studies would not be possible without the generosity of donors to the Gregorian University scholarship fund.
Profile by Rev. David Brooks SJ
.